The book and CD's of the pianist with the New York Philharmonic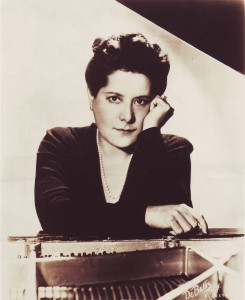 The book Guiomar Novaes of Brazil was written by the journalists Luciana Medeiros and João Luiz Sampaio, by the initiative of the BNDES International Piano Competition of Rio de Janeiro. It follows the career of Guiomar Novaes in the United States, emphasizing her path in New York.
The volume comes with two CD's, including three of her 27 concerts with the New York Philharmonic (Chopin # 2/Leonard Bernstein; Beethoven # 4/George Szell; Schumann/André Cluytens), as well as short pieces recorded at her recitals.