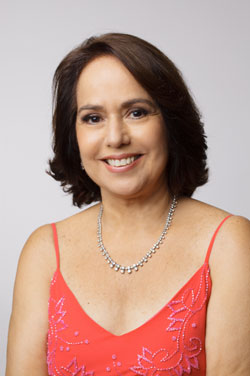 Regarded as one of the most prestigious Brazilian artists, Sonia Goulart holds over thirty national and international awards, including the 1st Prize in the Frankfurt Television Contest, as well as prizes in the Rencontres Musicales Internationales of Brussels and the Ferruccio Busoni International Competition, Bolzano.
Born in Salvador, Bahia, she stayed in Europe for over eight years. She lived in Germany and also in cities like Brussels, Madrid, Paris and Vienna, studying with the great masters Bruno Seidlhofer, Karl Engel and Stefan Askenase. She also studied with Carlo Zecchi at the Mozarteum in Salzburg, where he won the Award for Best Pianist of the Summer Course, and Jacob Sak at the Hochschule Franz Liszt in Weimar.
Building a solid international career, she often returns to Europe for concerts and recording tours in numerous radios, especially the Radio Suisse Romande (Lausanne), besides radios in Bolzano, Paris, Brussels, Berlin, Frankfurt, Hamburg, Hannover, Munich and Stuttgart.
Acclaimed by international expert critics, she was praised and compared to great performers like Arturo Benedetti Michelangeli, Alicia de Larrocha and Martha Argerich.
Playing as a soloist of the most important European orchestras, Sonia has worked with renowned conductors as Rumpf, Conz, Bagnoli, Prohaska, Reichert, Sarmientos, Spierman, Aeschbacher, Blech, Gunzenhauser, among others.
She made the cover of several European music magazines and has recorded albums in Germany, France and Brazil, where she launched in 2000 the new Golden G record label and the Sonia Goulart Live CD with a concert held at the Ettlinger Schloss Germany, 1991, recorded and broadcast live throughout Germany by the Südwestrundfunk radio.
Doctor of Music from the Staatliche Hochschule für Musik und Theater Hannover, she  also teaches, having been a professor at the Musikschule der Stadt Marl, Germany, for three years, and Professor of the School of Music at the Federal University of Rio de Janeiro.
This season she will be performing in recitals and concerts with orchestras in the United States and Germany, in addition to visiting Israel, where her first time visit will be marked by a recital and a CD recording of works by Israeli composer Amy Maayani.