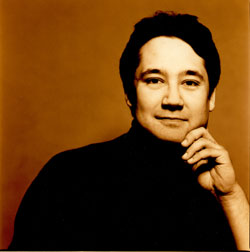 Rico Gulda was born in Zurich in 1968, grew up in Munich and there received his first piano lessons from his mother Yuko. Following he studied with Ludwig Hoffmann and Noel Flores at the Music University of Vienna, and completed his studies with a master degree. Shortly after he graduated in cultural production at the University of Vienna.
Thinking at first to pursue a career as a pianist, he chose to perform in international festivals and play as a soloist with orchestras such as the Mozarteum of Salzburg,  Bruckner o Linz, the New Japan Philharmonic, the Milan Symphony, the National of Belgium, the Radio Svizzera Lugano, the Warsaw Symphony and the Wiener Virtuosen, among many others.
Highlights in his career have been the concerts in memory of his father Friedrich Gulda, with Martha Argerich and his brother Paul with the Vienna Philharmonic at the Wiener Konzerthaus. The recording of these concerts in Tokyo was released on DVD. Since 1997 has recorded for Gramola, ArtCult, Naxos, Amphion, Orplid, and DG. Emphasis is made to EMI Classics production Musik zu Sisi's Hochzeit (Music for the wedding of Sissi) with unpublished works of the Wiener Huldigungskassette Compositeure played in the imperial marriage in 1854.
Rico Gulda taught at the Mozarteum in Salzburg, headed the piano department of the Franz Schubert Conservatory of Vienna and was a visiting professor for a semester (1999) at the Hansei University in Seoul, South Korea. It has since been a juror in various international competitions, as the Concours Long – Thibaud, Paris and the Liszt Open Competition in Hong Kong. Rico Gulda is currently a visiting professor of cultural management at various institutions.
An extensive research on a recording with the Variations on themes by Bach written by Beethoven researcher and a friend of Brahms, Gustav Nottebohm – awarded with the ECHO Klassik – inspired his dedicating to the work of this composer, and Rico Gulda intends to turn them into a thesis topic in the future.
Rico Gulda was director of festivals and entrepreneur of the New Yorker Absolute Ensemble prior to, in the fall of 2007, supporting the Wiener Konzerthaus team as  personal assistant to the artistic director. He is in charge of the artistic programming of the Wiener Konzerthaus from the Summer of 2013 and is artistic director of the Oberösterreichische Stiftskonzerte Summer festival.