Dec 8, 2012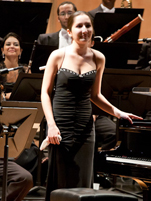 Tamila Salimdjanova (21) is the first prize winner of the III BNDES International Piano Competition of Rio de Janeiro. The pianist from Uzbekistan performed in the final round last Saturday at Theatro Municipal of Rio de Janeiro, playing Liszt Concerto N. 1 with the Brazilian Symphony Orchestra, conducted by Ligia Amadio.
The pianist also won the Audience Award granted for the first time in the Competition. Salimdjanova studies with Irina Plotnikova in Moscow State Conservatory, and was awarded in international competitions as Pro-Piano Romania (2003) and International Piano Competitions in Italy (2002/2005).
Mikhail Berestnev won the Second Prize, after playing Sergei Prokofiev Concerto N. 3. The Russian soloist (24) was awarded in international competitions as Neugaus Stanislaus (Russia, 2010) and Delphic Games (Belarus, 2008). Third Prize went to Nino Bakradze (28), from Georgia, who performed Beethoven Concerto N. 4. Nino studies currently in the New England Conservatory of Music.
Check pictures of the final round.