Nov 5, 2011

Release to happen at the opening of BNDES International Piano Festival on Sunday, November 27, 11:00 am in Theatro Municipal of Rio de Janeiro, with a free admission concert by Daniil Trifonov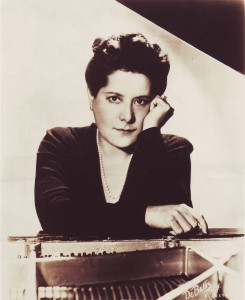 Focusing the North-american career of outstanding Brazilian pianist Guiomar Novaes (1894-1979), honored at the 2010 Competition edition, the book "Guiomar Novaes do Brasil/of Brazil" by Luciana Medeiros and João Luiz Sampaio will be issued at the 2011 BNDES International Piano Festival.  A bilingual text (Portuguese/English), the book introduces a side view of Guiomar's – a first prize winner in the Paris Conservatory in 1911 – incredible career, with a particular eye on the nearly six decades during which the pianist performed in the United States. The book encloses two CDs with three concerts Guiomar Novaes performed as a soloist of the New York Philharmonic.
Remasterized by the BNDES Piano Competition from recordings of radio broadcasts preserved at the International Piano Archives in Maryland, USA, the three concerts are Beethoven n.4 (conducted by George Szell), Chopin n. 2 (under Leonard Bernstein) and Schumann (with Andre Cluytens). The CDs also include several bonuses with pieces recorded at recitals by the pianist in the United States. The book will be sent to libraries and music schools, and a share of it will be sold at
R$ 80,00 a piece during the Festival, later in Cultura Bookstores and through Revista Concerto from February 2012. Revenue from sales will be handed out to the pianist heirs.